The world´s fastest growing biogas region
Californians are used to leading the way to better health and environment.
Consequenty, it was the California Air Resources Board ("CARB") that revealed how car makers were tampering with emission data from diesel cars.
Already in 1993, Los Angelse took a first step towards cleaner city air and reduced emissions of fossil CO2 by replacing 2,200 diesel buses with buses running on natural gas (fossil methane). In april 2017 the second step of the strategy was initiated when the same bus fleet switched to fueling RNG.(Renewable Natural Gas.sw: biogas) RNG has no negative impact on the climate and is produced in California from waste. In fact, RNG production in California has increased by a factor of one hundred in the last five years.

Stockholm, the capital of Sweden, started running city buses on RNG 13 years ago. In 2017 the neighbouring region Västmanland was running 95% of the public bus fleet on locally produced RNG.


New York City has more than 13,000 taxi cabs.
All these cars and the garbage trucks in the Big Apple could feasibly run on energy from the city´s own backyards.
.
Biogas is already being produced at Newtown Creek from what millions of New Yorkers flush down their toilets. In addition to this, every household in New York is now being equipped with specially designed brown waste bins. From the food waste sorted by the people and businesses of New York City, more biogas for cars, trucks and buses can be produced. What a great idea!

In Stockholm Sweden, more than 2,600 taxis and over 300 buses run och biogas. The climate neutral fuel is produced from waste water and from food waste sorted by stockholmians into 100,000 specially designed bins. Brown bins.
Brown trucks turning greener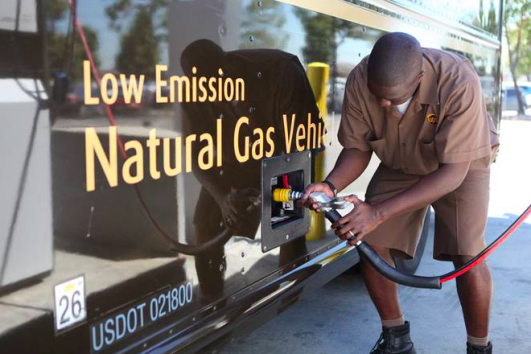 UPS, United Parcel Service, is a world leading logistics company.
Since 2015 UPS has invested 190 million US dollars in replacing diesel trucks with trucks running on natural gas (fossil methane).

In november 2017, UPS decided to increase the fleets share of climate neutral renewable natural gas from 8 to 23 %, a great step towards decreasing their carbon footprint.

At logistic company Widrikssons Åkeri in Västberga, southern Stockholm, half the fleet runs on methane. 48 trucks are fueled with100% RNG (sw:biogas) produced locally.
new york´s king of compost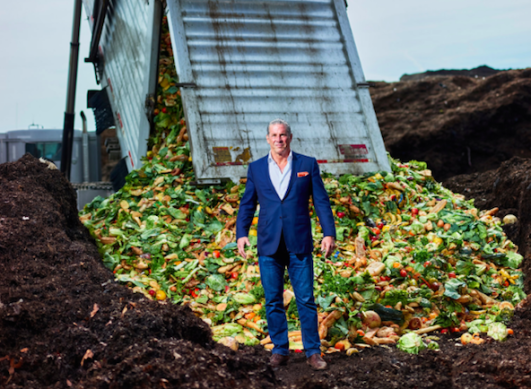 In february 2017, the New York Times published an article on "The King of Compost", Charles Vigliotti. As president of the American Organic Energy, Mr Vigliotti has a truly great thing going. A new plant that can make two new products out of garbarge in only three weeks.
If Mr Vigliottis plan succeds it will mean that 180,000 tons of food waste anually is transformed into biogas and eco-fertilizer.
US farmers buy 21 billion dollars worth of fertilizer every year and the biogas can be sold to businesses interested in turning their truck fleets sustainable or to produce green electricity.

Sweden has 34 plants that use food waste in the production of biogas and fertilizer. In 2017, the Södertörn plant 30 minutes from Stockholm city produced biogas enough to fuel 6,000 cars from food waste sorted by stockholmians.
marcel borger and orange gas


In 2008, Marcel Borger and his partner Pelle Schlichting founded OrangeGas. The business plan was based on the assumption that dutch businesses and public wouldn´t mind paying a little more for a locally produced fuel that is both environmentally- and climate friendly. The assumption turned out to be correct.
By 2016, Marcel and Pelle had 65 biogas fuelling stations up and running and their plan is to build another 35.

To make chosing biogas even easier, the Orange Gas fueling stations have built-in vacuum cleaners offering drivers the opportunity of leaving the station with a cleaner car.

Biogas - the smart and clean fuel.

Sweden has 170 public filling stations selling biogas. All that is missing are the vacuum cleaners...


Three billion people world wide cook their food on open fires. This means having to pay for wood, spend time getting it and that trees are being cut down instead of offering shade and binding cultivable soil. Smoke from these fires cause millions of deaths every year in so called "indoor air pollution". The same group of people have a high risk of attracting different kind of infectious diseases due to polluted water and non-existent garbage collection.

HOMEBIOGAS solves these problems. Instead of leaving droppings from cows, goats and sheep on the ground they come to use in a unit like the one in the picture. Organic waste from the household goes the same way.
Out of the HOMEBIOGAS unit comes sufficient biogas to run a cooking stove for two hours every day, and as a bonus, a liquid fertilizer is produced. No money wasted on buying wood, no time wasted on getting it, less areas are deforrested and less people and animals get sick from drinking polluted water or inhaling polluted air. Biogas - the game changer.
biogas cars make more sense than electric
In december 2015, a Finnish study focusing on the economics in reducing carbon dioxide emissions from road transport was published. The conclusion was that it would cost 8 billion US dollars more to reduce emissions by building an infrastructure for chargers and switching to electrical cars compared to fueling transportation with domestically produced biogas.

Why?

Because producing biogas using residue from farming and organic waste creates new jobs.
The study painted a vision of 50,000 biogas fueled vehicles on finnish roads by 2030 and that by then, the country would have 50 biogas fueling stations.
The same year the study was published Sweden reached 150 biogas fllling stations fueling 49,000 vehicles. With a potential GNP worth of 8 billion dollars.

Google the report: "How to Reduce Carbon Dioxide Emissions From Road Transport by 40%", VTT Dec 2015
Every human being on the planet needs to eat and use the toilet. The greater the amount of people in a city, the more waste. Biogas technology enables the production of non-fossil methane from food waste, sewage or residue from farming.

As you are reading this, the world´s larger economies are increasing their use of natural gas (fossil methane) for industrial purposes to heat homes, produce electricity and fuel ships, trucks and cars. In January 2018, China became the
world´s number one importer of natural gas. The reason: China, just like the USA, wants to reduce the use of coal as fuel in the production of electricity.

The second step in this development is to switch from natural gas to biogas. Biogas (biomethane/RNG) is chemically identical with natural gas and can be produced by every country from waste. Doing so has a number of benefits:
the country´s economy benefits
turning waste into energy reduces environmental impact
industry, shipping and road transports can operate without affecting the climate.
with a domestic, independent production of fuel and fertilizer, food production and transportation becomes less vulnerable to global politics.

This is why an increasing number of countries are developing their own biogas infrastructure.
Biogas Technology - making what everybody needs from what everybody has