Leaders in the new energy trend
Even if the average renewable share of methane at fueling stations in 2020 Europe is 16% (the US: 53%), things are changing at a near Californian speed, especially in Northern Europe. UK 67%, Netherlands 85% renewable gas, Finland 59%, Denmark 100% and Sweden 94%.
(Source: europeanbiogas.eu)

Paris/Region IlE de France.
Just like Norwegian City of Bergen, the French public transport authority Ile-de-France Mobilités has found biomethane powered vehicles ideally suited to the requirements of the public transport network of the Greater Paris area.

With the fuel derived from recycling the city´s own organic waste, the buses deliver major environmental benefits, noise reduction and improved air quality. Fine particle emissions are reduced to almost zero and NOx emissions by more than a third. The Urbanway's natural gas engine cuts noise level by 50% improving travelling conditions for drivers, passengers and residents alike. Link to news post.
Realizing the benefits of driving on non-fossil fuel from recycled waste has become the way of
Coco-Cola Switzerland. Read about how the idea came up and the experiences from operating this Green Deal Fleet in interview with Sustainability Manager Patrick Wittweiler at cng-mobililty.ch
One of Swedens leading municipalitys when it comes to sustainability and circular economy, Botkyrka in the Southern parts of Stockholm, rolls on biomethane. With a nearby biogas production facility turning sorted household waste into biomethane and eco-fertilizer, staff are closing the local loop when fueling their cars with the result of what their own family members threw in the brown bin three weeks earlier.
Second ship owners in the world (the first was Furtank Shipping also on Donsö island in the Gothenburg archipelago) to fuel LNG tankers with liquified biomethane. "We are going for 100% bio, this is just the beginning", says Chairman of the Board Tryggve Möller. Here with staff and Terntank Ship Managements other two co-owners Rigmor Möller and Annika Kristensson. Image: with dr Jan Rapp, Global Game Changer Award 2019 (www.terntank.com)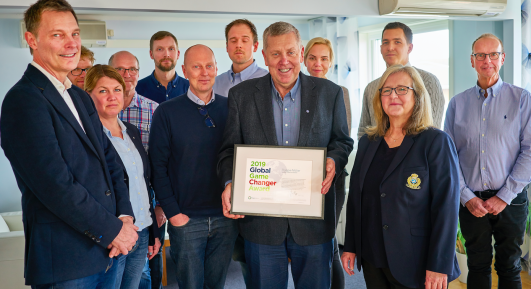 With 93,7% of the regional bus fleet fueled by biomethane, Swedish regions of Örebro and Västmanland has a high probability of holding a world record. Yes, The Big Blue Bus of Santa Monica, California has a fleet of 198 buses, New York City has 800 and LA Metro are headed for 2 200 biomethane buses but percentage wize.... Anyway, what we DO know for sure that it´s a good deal for the regions. Replacing 5 million litres of imported fossil diesel annually with locally produced fuel keeps that money in the local economy. Creating jobs in both production and distribution. Website in swedish
Meanwhile, in the US of A...
April 20, 2021. Securing it´s supply of sustainable energy in order to reach net zero by 2045, Jeff Bezos´ Amazon invests 500 million USD in Clean Energy Fuels. Guranteeing 100% biomethane (US:RNG) at all Clean Energy fueling stations across the US by 2025, the energy supplier sells non-fossil methane from recycled organic waste and landfills. Click to read an Article that confirms the outstanding climate benefits of this fuel citing NGVA calculations of pathways leading to 328% net climate benefit.
blue buses of Santa Monica
As a leader of sustainability, California has kept an eye on biomethane (US: RNG) for a long time. (see movie below) The well functioning 198 biomethane powered buses of the Big Blue Bus company in Santa Monica paved the way, and now neighbouring Los Angeles has set the same targets: the entire fleet of 2 200 buses are switching to biomethane. (April 2022 update: 1,417 buses) Preferrably made from cow manure, since that gives the company financial benefits according to the California Low Carbon Fuel Standard.(rngcoalition.com)
With biogas/biomethane production booming in California, New York also has things going. Charles Vigliotti was featured in The New York Times February 2017 as "The King of Compost". Starting out as garbage handlers in Queens, Charles and his brother Arnold have created a respected recycling business for NYC waste on Long Island. In 2022, the newly formed American Organic Energy are opening the world´s most sophisticated food waste treatment facility making - biomethane. Image: With dr Jan Rapp, Global Game Changer Award Feb 2018, Long Island, NY. (usbiopower.com)
UPS is one of the largest overland logistics operations in the world. And, working hard on improving sustainability. Since 2015 UPS North America has invested 640 million USD in methane trucks and infrastructure. In 2018, the brown giant signed the biggest contract for green biomethane in US history. Present targets are set at minimum 23% of fleet to run fossil free on biomethane.
a film about the fastest growing biogas region in the world: California (26 min)
click cc-icon for english subtitles (or any language). host: dr Jan Rapp