Businesses improving sustainability by integrating the biogas aspect of things.

1. Stockholm hospital waste for biogas
Between 2010-2011 MD Jan Rapp, the founder of Biogas Academy, introduced a new system for sorting kitchen waste at Danderyd Hopital, Stockholm.

By swapping single use plastic sacks for multiple use plastic containers, collected kitchen waste increased by 600%. Continuing the campaign, dr Rapp pushed for compulsory food sorting to be included in the environmental program of the Stockholm Region. Within two years the system was introduced in all hospitals in the greater Stockholm area. See the system at work in the film labeled "O" under "FILMS."

The new system saves 80 000 + plastic sacks annually and diverts more than 500 metric tons of organic waste to biogas production facilities instead of being incinerated together with the plastic sacks in district heating furnaces.

Due to the new system making kitchen waste becoming both visible and measurable, it makes food waste reduction a lot easier. During the second year in operation, food waste at Karolinska Hospital Huddinge was reduced by 50 tons.

For his achievements dr Rapp received awards like "Stockholmian of the Month" and Swedish Environmental Hero of the Year.
In 2010 Google headquarters became the first business in Mountain View to have its kitchen waste collected separately. To make it easier for employees to sort banana peels and teabags, specially designed containers for conference rooms and office desks were introduced.

Combining education and clear signs organic waste from the office environment increased from 10 to 78%.
By simultaneously switching from plastic to compostable bags, the annual use of plastic bags was reduced by five million bags.

The initiative opened up the possibility for more companies in Mountain View to have their organic waste collected separately too. When Google started the project, organic waste was composted. Today all the collected organics from Mountain View are going into biogas digesters

Google Bay Area Waste Case Study (pdf)
Epiroc Mining Equipment
finding the gems
With manufacturing in Sweden, Canada, the US, China and India Epiroc sells mining and infrastructure equipment to countries all over the world. Pre-Covid, BiogasAcademy was asked to upgrade recycling at the global head office in Stockholm.

To make sorting of every teabag and banana peel easy, we provided every employee with their own, desktop recycling container complying with the company´s design manual. Excluding use of plastic or paper bags, the small containers are multi-use, dishmachine proof and come with stickers saying "My Waste Isn´t Wasted!"

Clear instructions were designed explaining both how to use the system but also "the bigger picture": what good comes out of contributing to the different waste streams

Table talkers in the lunch room told the story of how the office building actually sits "in the heart of the worlds biogas capital" with biogas production, a biomethane bus depot and biomethane fueling station for cars and taxis just stone throws away. Facts no one at Epiroc had heard anything about before.

One week after introducing the new system the office staff from all parts of the world only had one question: "Why haven´t we started doing this before?"

Following the sucess at Epiroc HQ, the same system has been introduced at VISMA Stockholm, Gothenburg and Malmö.
Asplund´s restaurant doing it right - and showing it!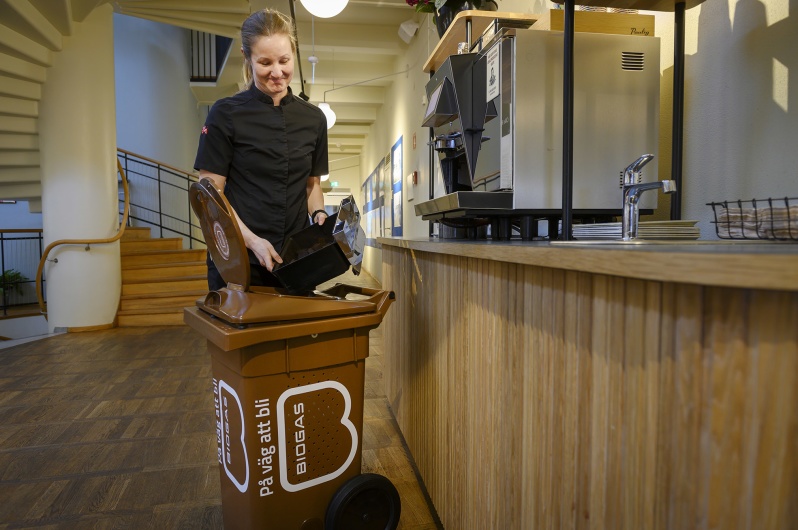 When Moa Klingsell mailed us about how both she and her father drove biomethane cars and were interested in making them more visible using the biogas logo we were more than happy to help.

A little later Moa came back with a new request:

"I´ve been talking to Petter (Danielsson) the owner of the restaurant where I work. We would like to discuss how we could make our recycling more visible to the clients in our restaurant and to catering customers."

Thanks to Moa and Chef Petter, the lunch guests at Asplunds restaurant are nowadays getting a free lesson in how their food waste handling can make a difference in Sweden´s decarbonization. Regardless of if they are eating at home, having a snack at work or at a restaurant. Biogas - the low effort solution with high yield.

Under "FILMS" the film labeled "L" shows how other Stockholm hotels and restaurants have been sorting organics for many years.